I have a slight obsession with going to the Goodwill Outlet here in St. Louis and scrounging through all the huge, unorganized, ridiculously germy bins. I've found some great things there (see them here), and it's always a fun adventure. So, if you're ever in the area, make sure you stop by! It's off of Vandeventer, right past the Grove.
Anyway, I love old suitcases but never know what to do with them, so I never get them. The other day, though, I thought I would grab one and come home and try to make something out of it. I decided on making a table. I searched the web for inspiration, and even checked Pinterest for ideas, but unfortunately what I was wanting to do hadn't been done or at least hadn't been pinned yet. :( So I was on my own on this one.
DIY Suitcase Table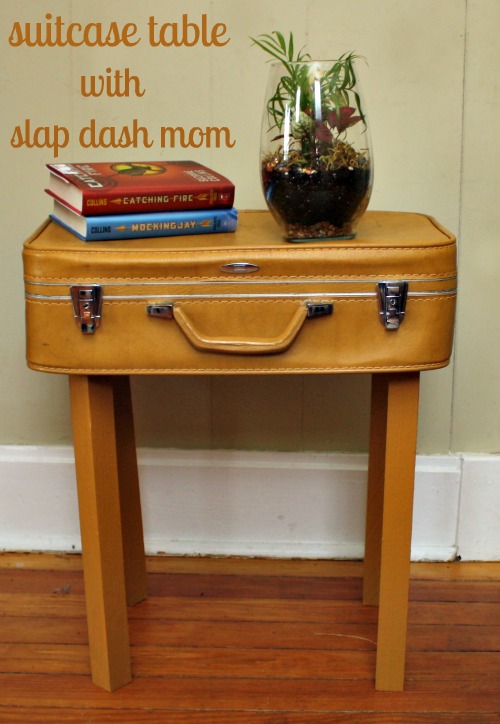 I headed over to Home Depot, and spent an hour there trying to find what I wanted, without going over budget ($20). I decided on the following supplies:
2×2 ($.98)
2.5″ screws ($.98 x 2 packs = $1.96)
paint sample ($2.98)
plywood ($8 ugh)
I already had on hand the suitcase ($2), mod podge, drill, screw driver, and book pages. Instead of buying a paint brush, I just used a sponge brush I had. I don't recommend that, by the way. It was ruined before the project was half-finished. Luckily, I had two of them. :)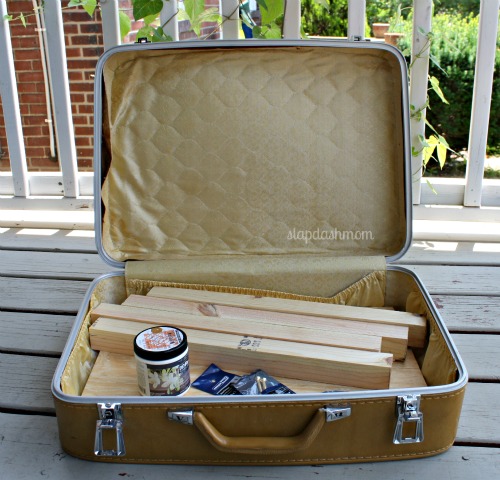 So I had the guy at Home Depot cut the 2×2 into 18″ pieces, and the plywood into a piece that would fit into my suitcase. No, I did not measure. I brought the suitcase into the store. I also needed it so the paint could be an exact match. They probably wondered why anyone would want such a hideous color of paint! I thought the same thing, but I think this little suitcase has character. I set all of the supplies out on the front porch, and then tore out the inside lining since it was starting to come out anyway. Had the lining been in tact, I probably would have kept it.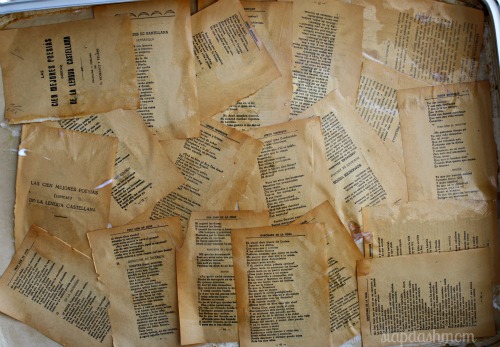 I took a really old Spanish book that I had purchased at Goodwill a few weeks ago, and tore the pages out. I attached them to the suitcase with mod podge. If you don't have an old book, you could use a new one and then spray some sealant over it to make them look aged. Or I am sure there is some ink you could use as well, but I was trying to do this project on a small budget. If the darn plywood wasn't so expensive, I could've kept it at around $10!
Total cost: $16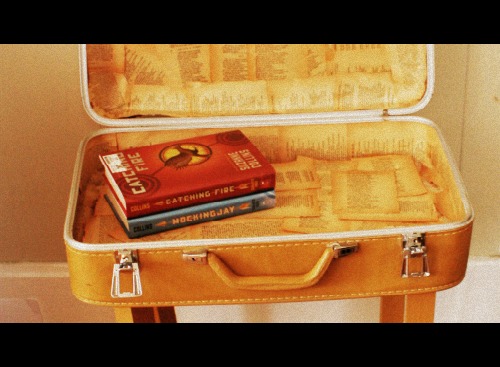 I painted the legs and the plywood with matching paint, and then drilled holes into the plywood and through the suitcase shell. After the paint was dry, I used the 2.5″ screws to attach the plywood to the suitcase, and then to the 2×2 legs.
I hope you like my little project… I'd love to see what you come up with, too!