There are so many inexpensive, natural alternatives that you can safely use in place of commercial household cleaning products. Get started with these DIY Cleaning Recipes.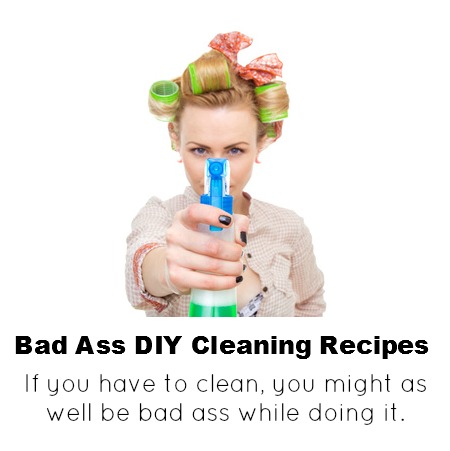 When it comes to making your own cleaning products, your options are endless but some of my favorites to use are:
baking soda: it deodorizes, and you can use it to clean almost anything if you mix it with a bit of water.
lemon: very effective against bacteria found around the house.
borax: disinfects, deodorizes, and cleans many surfaces such as walls and floors.
vinegar: cuts grease, and removes stains and build-up.
DIY Windex
3 tablespoons ammonia
3/4 cup water
1 tablespoon white vinegar
2 drops blue food coloring
All Purpose Spray Cleaner
In a gallon jug, combine:
1 pint rubbing alcohol
1 tablespoon dish washing detergent
1 tablespoon household ammonia
1 tablespoon vinegar
Top off the jug with warm water, then cap and shake carefully. Pour into a spray bottle and use to clean windows, bath fixtures, and more.
Air Freshener Spray
1/4 c. baking soda
4 c. warm water
1 tsp of 1 of lemon, strawberry, or vanilla extract
Carpet Deodorizer
2 cups cornmeal
1 cup borax
10-15 drops essential oil (I prefer lemon)
Mix together, sprinkle on carpet, and vacuum up 10-15 minutes later
Refrigerator Cleaner
1 tablespoon baking soda
1 teaspoon lemon extract or vanilla extract
4 cups water
DIY Cleaning Recipes From Around the Web
Crock Pot Air Freshener
DIY Kitchen Cleaners
Find more DIY Cleaning Recipes at Budgeting 101 and Pinterest.
You can also leave your DIY Cleaning recipes in the comments!