Easy Diaper Cake Tutorial
This post may contain affiliate links. Please read my Disclaimer and Privacy policy for more information.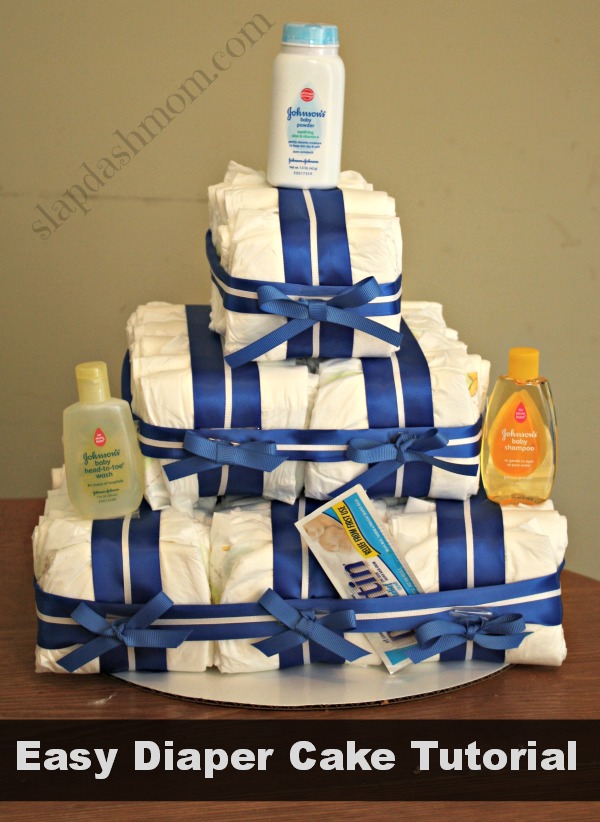 Putting together this awesome and unique baby shower gift only takes about 30 minutes and $15.00. Use this Easy Diaper Cake Tutorial to help inspire your own diaper cake craft! Email completed photos to slapdashmomATgmailDOTcom and I will publish them at the bottom of this post with a link back to your blog (or with your name if you are not a blogger)!
Easy Diaper Cake Tutorial
First, gather your supplies. For this simple square diaper cake, the only supplies I used were:
diapers (Buy diapers in bulk)
travel size baby items ($3)
round cardboard cake piece ($2 but you can easily make your own)
ribbon (on hand)
tape (on hand)
optional: rubberbands (I did not use these because I didn't have any, but they are helpful)

You can add rattles, toys, full size baby products, etc to yours, but I like very simple diaper cakes. To accompany the diaper cake, I am giving the mom-to-be a diaper bag full of full-size products that will help her during the first months of mommyhood, along with some extra diapers – because we know how fast those go!

Fold the diapers in half, and alternate the way you stack them. I believe I used 15-17 for each row on the bottom layer, but you can make yours smaller or larger. If you're going to stack more than 15 or so, I suggest using rubberbands to secure smaller stacks, and then wrapping the ribbon around the entire row. Lost yet? :)

I cut the ribbon to the length I needed, and wrapped each row with a thick piece of satin, followed by a very thin piece of satin. You can use any type of ribbon, or even tulle – whatever you have on hand is best. I secured the ribbon with a small piece of rolled up tape in the back of the cake. NONE of the tape was visible on this diaper cake, but I used a LOT.

After wrapping vertically with ribbon, wrap it horizontally as well. It really makes it "POP". Use scrap pieces of ribbon to make little bows.

Add toys, baby wash, etc to your diaper cake – secure with hidden tape if possible. With the round diaper cakes, I always put a baby bottle, baby shampoo, or a big box of wipes in the center – so that's a possibility as well if you are trying to put as many things as you can in/on your diaper cake.

This diaper cake takes less than an hour to make, and less than $15 in supplies (even cheaper if you have more on hand!), and will be the hit of ANY baby shower! Don't forget to send me your photos so I can add them to my post!