12 Cast Iron Skillet Desserts You Can't Resist
I absolutely love my cast iron skillet, and of course I love dessert recipes, so the most natural progression in life is to bake up some cast iron skillet desserts! My goal this Fall is to make even more skillet desserts, so bookmark or pin this post and come back to see more soon.
12 Cast Iron Skillet Desserts You Can't Resist
If you haven't used your cast iron skillet to create amazing desserts yet, now is the time. Don't be intimidated by cast iron; it's easy to take care of and truly makes every recipe just taste better. Make sure you buy a pre-seasoned cast iron skillet, and pay attention to the size. If you want to create a huge dessert, get a 12.5″ skillet. If you want to make one that's just right (everyone still gets a piece, just not a huge piece), use the 9″ or 10″ size instead. Also keep in mind that the smaller the skillet, the thicker the dessert. If you want a deep dish cookie, you definitely want to use a smaller skillet.
This delicious Mini Cast Iron Skillet Pear Tart Recipe is the perfect serving size for one (or two, if you're the sharing type)!
I love love lovvvve cinnamon rolls (though my wife hates cinnamon!), so I'm excited to try this Cast Iron Cinnamon Roll recipe from The Baking Fairy.
It's tough to make desserts gluten-free, vegan, and delicious. I'm pretty confident that this Gluten-Free Vegan Skillet Brownie checks all the boxes!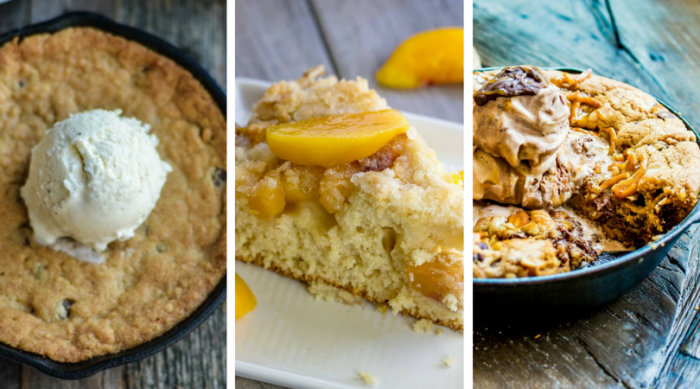 I've never had cake for breakfast, so even though this is called a "breakfast cake", I call it a dessert: Cast Iron Peach Breakfast Cake. Maybe a good Christmas morning breakfast?
You can never go wrong with chocolate chips. If you're counting calories or perhaps creating a solo dessert, you'll enjoy this Mini Skillet Chocolate Chip Cookie.
I love salted caramel almost as much as I love chocolate. Combining the two is just heaven: Salted Caramel Chocolate Skillet Cookie.
More Cast Iron Skillet Desserts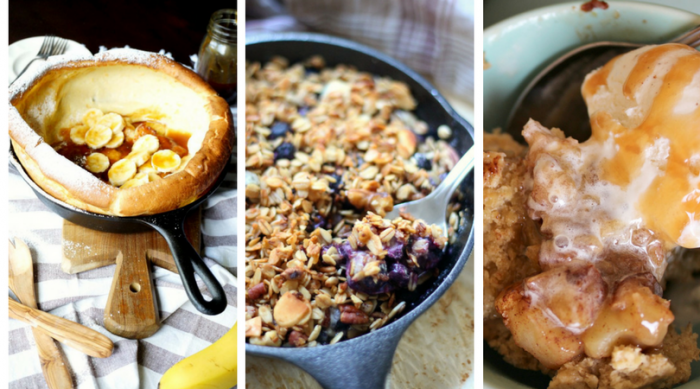 I found this recipe by accident, actually, and am so glad I did. Rachel likes bananas, so I'm going to make this Cast Iron Dutch Baby with Bananas and Caramel for her when she gets home.
More of a summer recipe, this Skillet Blueberry Crisp is one worth saving.
If you drool over apple crisp as much as I do, you'll die over this Cast Iron Skillet Apple Crisp Recipe. I can't handle the deliciousness!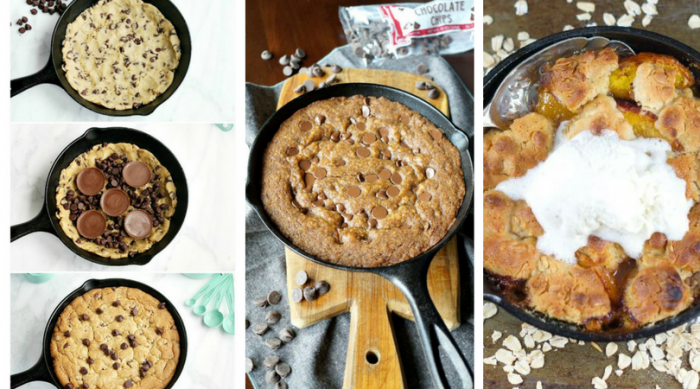 The only way to make a chocolate dessert better is to add peanut butter, like Homemade Interest did with their Peanut Butter Cup Skillet Cookie!
I had to include at least one more vegan recipe in this roundup! Vegan Chocolate Chip Skillet Cookie
And of course, one more fruity recipe: Easy Skillet Peach Cobbler.