How to Be Active on Social Media and Still Have Time to Blog
How to Be Active on Social Media and Still Have Time to Blog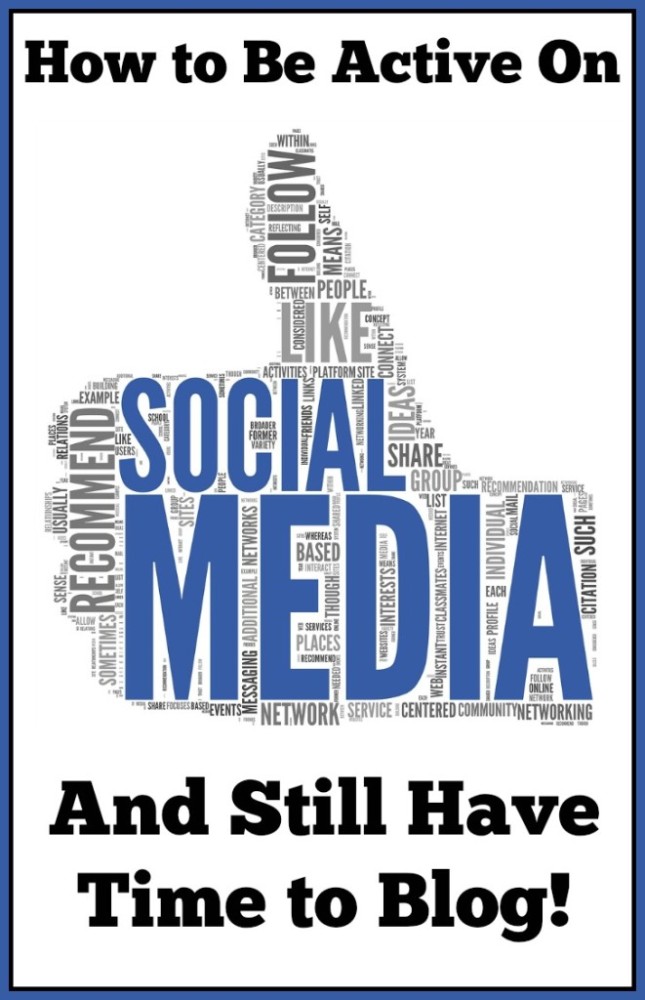 Social media can be a blessing for bloggers – but it can also be a time-sucking curse! I am sure we can all agree that at least once, we have logged into Facebook or Pinterest and an hour (or five) later, we were still there! For some bloggers, that may happen every day. Not pointing fingers at myself or anything. Just sayin'.
Is it possible to be active on social media and not waste valuable blogging time? YES! The following are six tips that will allow you to be productive on social media, without losing yourself!
1. Schedule your updates.
Visiting each social media account you have in order to share your posts is where most bloggers lose essential time. Scheduling your updates will prevent the need to be logged into social media so much. Free programs such as Buffer allow you to update Twitter, Facebook, and Google+ all from their platform. I personally don't like scheduling Facebook posts, because interacting with my readers is very important to me, but I do know many bloggers that do and that is fine! I do schedule Twitter posts on a regular basis.
Tip: Take the time on Sunday or Monday to schedule out promotions and you will save a ton of time!
2. Track your time spent on social media.
The first step to remedying a problem is determine you have one. (Translated: Call yourself on your bullshit and realize how much time you're wasting.) Take a week to log the time you spend on Facebook, Pinterest, and other social media sites (Twitter, Instagram, don't forget them all!). You can get really technical and write down the time you start and stop, but a simple calculation of the minutes spent on these networks will be fine. At the end of the week, tally your time and see if you need to cut back. Hint: You do.
Tip: Most bloggers only need 1-2 hours (or less) of social media time each day. If you are spending more time than that and struggling to get your blogging or other business tasks done, you need to find a better way!
3. Hire a VA to take care of your social networking.
Having a virtual assistant take over your social media accounts will free up so much of your time to get other things done. They can schedule updates for you, interact with your fans, and make sure all of your blog content is being properly promoted through the best channels. It will cost a little dough, but think of the time you are getting back in exchange for your money!
Insider Trick: I choose to handle my Facebook and Pinterest because I enjoy them, but I hire out for my Twitter 90% of the time (even for Twitter parties) because it's not a platform I enjoy using. Choose the networks you like, and go from there.
4. Block social media websites during your working hours.
If you find you just cannot be productive due to checking your Facebook or Twitter feeds, block those sites during your peak working hours. Just restricting yourself by closing them out may do the trick, but there are applications you can download that will block you from being able to load the sites you choose.
For Mac Users, SelfControl will help you restrict your social media access. PC Users can use the StayFocusd extension on Google Chrome. This shit is for real. I tried to unblock myself after I had spent too much time one day, and it wouldn't let me! So only block it if you know you can live without it for a few hours. ;)
5. Save the direct links to your most used Facebook groups.
Facebook may be the worst place for blogger procrastination. Even when you only intend to share a quick post or ask a question in a group, you may read all the updates from that group (and several others) before you realize you've wasted time. Direct links to your most used groups can solve that! You will only go into the group you need at the time and you can get back out before temptation to wonder arises.
6. Integrate sharing directly from your blog.
This is perfect, not only for you to be more productive while still being on social media, but also to let your readers share your content with the world. It's a win-win! Shareaholic and Flare are just two of the WordPress plugins you can install so that you can share your posts without leaving your blog.
How do you stay active on social media while also being a productive blogger?