7 Ways to Make Money From Home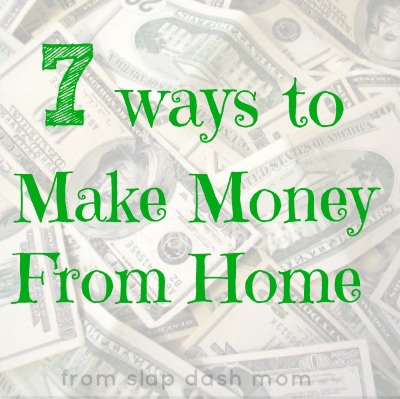 7 Ways to Make Money From Home
Making money from home can be fun, exciting, challenging, and a great financial opportunity all rolled into one! I'm giving you my best tips – for FREE – so you can be a successful work at home mom person just like I am. While it took me years to figure all of it out, you're going to learn it in less than an hour! The best ways to make money from home are the ones you are passionate about, so keep that in mind when reading this post!
>>>Books about working from home (some are FREE!!)<<<
Starting a Business
Starting a business is not like finding a job online. There is paperwork to file, legal stuff to take care of, and more. But if you want to be your own boss and control your own destiny, starting a business is the way to go.
Only you can decide whether you want to work for someone else, or you want to be your own boss. While there's lots of freedom that comes with being your own boss, there is also a lot of responsibility. You don't get business hours! You work and work and work, and then it pays off. With a job, you get a paycheck and don't have that stress, but you might not make as much money.
When you're working from home, you need business cards. High quality business cards can be expensive, but I use Moo and always search for coupon codes before ordering.
Ebook: Make Money Online Volume 2 – 67 More Real Companies That Pay You To Work In Your Pajamas
1. Start a Blog.
Make a full-time income like I do… by starting a blog! Read How to Start a Blog in 7 Easy Steps, snag your domain and hosting.
One of the most important parts of blogging? Using amazing images! I take mine, or get them for less than $1 each at DepositPhotos.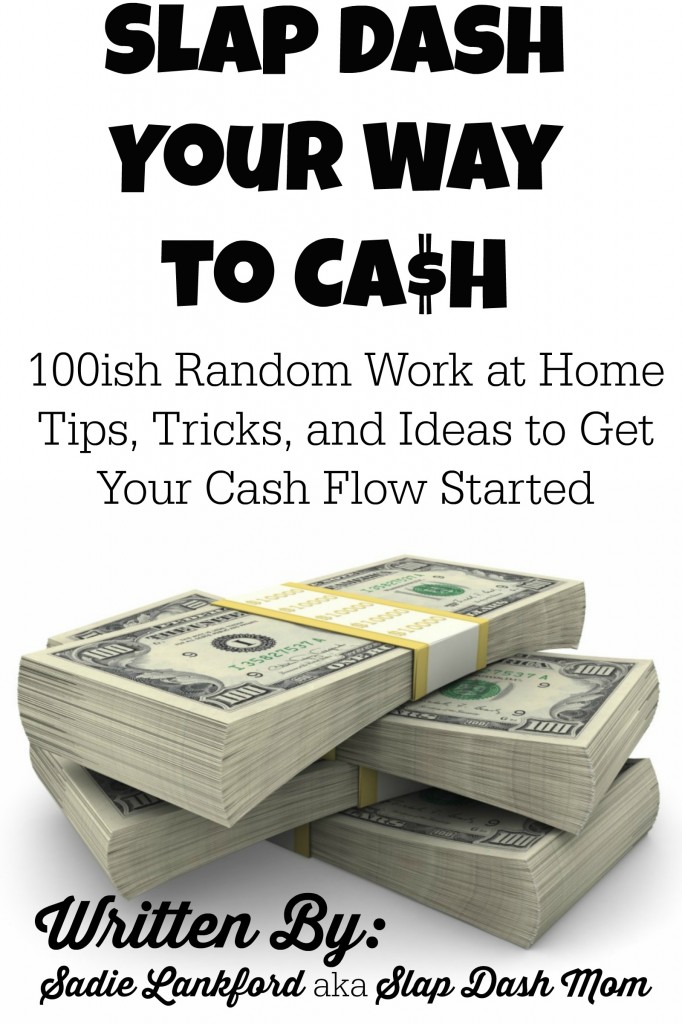 Free Ebook: 100ish Random Work at Home Tips, Tricks, and Ideas to Get Your Cash Flow Started
2. Become a Social Media Consultant.
Are you internet savvy? Do you love helping others grow their social media networks? Have you started a fan page and built it from the ground up? Are you a marketing genius?
If you answered yes to these questions, you may make an excellent Social Media Consultant. To build your portfolio, offer to help your favorite bloggers, or some of your friends, in exchange for them promoting your business for you.
Sign up for a Free 30 day trial of HootSuite Pro to get acquainted with social media scheduling, sharing, etc. It will save you a ton of time. Time is money!
Read blogs like ProBlogger, Social Media Examiner, and Smart Passive Income for more social media tips. Become an expert in this field by doing research, before you take on paying clients.
3. Become a Virtual Assistant.
A Virtual Assistant is similar to a Social Media Consultant, but a little different in the fact that you're basically like a secretary working from home. Sign up for my (super affordable) virtual assistant training to get started.
Virtual Assistants can also write articles. If you'd like to do that, you must have strong grammar, spelling, etc. I like to write articles and sell them to other bloggers in Facebook groups (I list them in my training course).
You can set your own prices, but I sell my articles for about $20 a piece. They're 400-600 words each, and take me less than 30 minutes to write. $40 an hour is a rate I'm totally okay with. Images are also a Virtual Assistant's best friend! They can increase the value of your articles by at least $5 each.
Along the same lines, you can write for websites like Examiner, and make decent cash as well.
4. Start an Etsy Shop.
If you're crafty and love everything girly, you'll love owning your own Etsy shop! Nellie Bug's was my first "real" business, and I created it from the ground up by making tutus, hair bows, and other unique items for little girls (and even some for boys). There are many different types of shops on Etsy, so it's important to be original when starting your shop. Don't start a jewelry shop just because it looks easy or popular – start it because that's your passion.
Watch YouTube videos, sign up for affordable (or free!) classes on Craftsy, and attend local craft fairs so you get an idea of how it all works. Craft shows are a bit different than selling on Etsy, but doing research in your market is smart.
Helpful Articles:
— How to start your own boutique
— Jewelry/Beading Ideas
— Top 10 Tips for Starting an Etsy Business
5. Do surveys online.
I don't do surveys online often, but I do have a few friends that literally make a full-time income from doing surveys, sweepstakes, etc all day. It's not the type of stuff I enjoy doing, so I only do it once in a while. However, if you're already surfing the web, why not make some money while you're at it? Spending even an hour each day on survey sites could add up quickly! $$$
Tip: Set up a separate email address to use for survey sites! They email you a lot.
Inbox Dollars is the site I've earned the most money from so far. I don't complete the offers that require a credit card, but they pay really well, so what I recommend is getting a prepaid card and completing them that way. The best part about Inbox Dollars? You get paid $5 just for signing up!
Swagbucks is another site I've earned some cash with. Using their search engine and watching their videos is the quickest way to the top!
I will continue to add sites to this list as I discover and approve of them. While others might give you an entire list of 50 sites, I only give you what I have experience with and trust!
6. Become a Life Coach.
Being a Life Coach can be very rewarding. Are you great at solving other people's problems? Do you enjoy encouraging your friends, helping them find their own path in life?
If so, you could make a great Life Coach! You can't exactly major in "life coaching" at a legit college, but you can study counseling and psychology. Harvard, Yale, and other well-known colleges all have coaching programs. If you don't have the desire to get a degree, taking a few coaching and health classes here and there while offering free coaching is a great way to build your portfolio. It's best if you do get a degree, but a piece of paper isn't everything.
You can study to become a Life Coach completely online, and you can even coach your clients via Skype, Google Hangouts, etc so you technically never have to leave your house! Perfect for a hermit, right? ;)
7. Flip stuff on Craigslist.
When thinking of ways to make money from home, Craigslist might seem kind of scary. As long as you play it safe, and don't invite a bunch of random strangers to your house to purchase things, you'll be fine. Craigslist isn't the only way to sell things, though. You can also do Ebay, or any other auction site, if you don't mind dealing with shipping. Another good idea: buy items at garage sales for super cheap, and resell them in local Facebook groups. Not quite as sketchy as Craigslist can be, and it will still make you a decent profit.
When thinking of things to buy, baby and toddler items should be at the top of the list … followed by antiques (but make sure they're valuable! Don't just buy junk.).
Items like baby carriers, car seat covers, etc can all sell for $20 or more each. You can get them for free (just pay shipping), and then sell them! Use this link and then search google for "seven slings promo codes". Find one that makes the items free, and go from there. :)
Whether you want to be your own boss, just want to catch up on bills, or want to be able to spend more time with your little ones… starting a business is not something that you can do overnight. Weigh the pros and cons, your strengths and weaknesses, and then find something that will work for your family. Good luck!