5 Money Topics to Discuss With Your Teen
This is a sponsored post written by me on behalf of Make Your Kid A Money Genius (Even If You're Not).
Being a parent to a teen is uncharted territory for me, but I'm learning and Jenelle is learning with me. I was only 15 when I got pregnant, so I try to balance being an overbearing mom with being a smart mom. Nobody ever wants to be that mom that doesn't let her teen out of her sight, but at the same time there are some things we need to teach them before we let them fly! While my childhood wasn't horrible by any means, I was raised by a single mom and she had to work a lot so we didn't get to talk about things very often.
One of the things I really missed was talking about money. I watched my Mom and the mistakes she made (credit card debt, bankruptcy, etc) and vowed to never fall into those habits. I didn't get my first credit card until I was nearly 30, and that was only so I could help raise my credit to buy our first house. I was extremely unprepared for saving, buying a house, and many other things that some grownups take for granted because they already knew how to do everything. My Mom didn't even own a house when I was a teen (she did, but couldn't make payments so she let it go), so I didn't know about mortgages, interest, house repair costs, etc.

Because of my life experiences, I have tried to talk to my kids about money, saving, working, college, and yes, even home buying. The book, Make Your Kid a Money Genius (Even if You're Not) has really helped me understand how little I know about money. I thought I was doing a great job because I've got a few thousand bucks in savings but in reality I waited way too long to start saving and now I need to kick it into high gear to make up for it!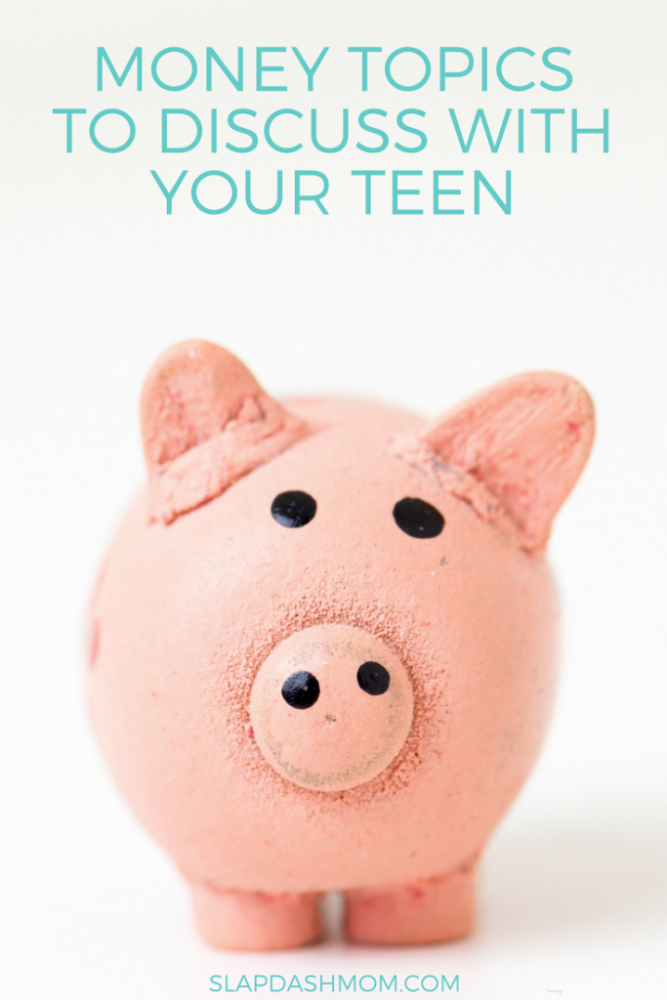 5 Money Topics to Discuss With Your Teen
I don't want history to repeat itself with our girls, so we sat down and looked through this book together. These are five topics Jenelle and I read about in the book that we feel are super important. The book is by personal finance expert, journalist, and bestselling author Beth Kobliner. It's not just her opinions or her own studies; it's based on the latest research from the fields of psychology, child development, and behavioral economics. I love that the research is so well-rounded. So many don't realize what an important role psychology plays in all of this!

Make Your Kid a Money Genius (Even If You're Not) is an easy to understand, step-by-step guide to help parents teach their kids from ages three to twenty-three about money. When you purchase this book (get it here), let me know if you'd add anything to our list!
Working
As a teen, I couldn't wait to start working. In fact, I was 14 when I had my first job. It was at a smoky, gross VFW hall but it was a job. I made about $40 a night in tips and that was a lot of money to me! I worked 3 nights a week, so I was making nearly $500 a month. I wish my Mom or another adult would've helped me set up a savings account, because to be completely honest most of my money got spent on candy bars and pizza. Had I saved even half of it, I would've had several thousand dollars in savings when I moved out.
Jenelle is 15 and has briefly mentioned working but I don't think she really wants to get a job. Who can blame her when everything is paid for? But, this summer she will find a job so she can help pay for her cell phone on a regular basis rather than just paying for it when she babysits once in a while.
Tip from Make Your Kid a Money Genius (Even if You're Not): Getting a job is awesome, but not if your grades suffer. Working through the summer is better than working after school. If you do work after school, make sure you still have time for your school work. You don't want your grades to suffer.
Bills
Keep track of your bills in a system that makes sense to you. I've tried too many "systems" that just don't work for me and the end result was always me forgetting which bills had been paid, and which bills still needed to be paid. Right now I use Google Docs and set reminders for each bill, but in the past I've had success writing each bill and the amount and due date up on a white board in my office. Having the bills front and center helps me focus on work, too.
Do something about it before they get overdue, if at all possible. If that's not possible, don't ignore the bills when they do fall past due.
Tip from Make Your Kid a Money Genius (Even if You're Not): If you're truly drowning in debt, seek help from a nonprofit credit counselor, at the Financial Counseling Association of America.
College
Even if you don't think you want to go to college, you could change your mind somewhere down the road so it's a good idea to be prepared. Jenelle goes back and forth thinking she might go to Cosmetology school, or she might become a teacher or a lawyer, or she might start her own business and skip college all together. I fully support whichever decision she makes (though Mom #2 says she needs to go to college), but either way I want her to be prepared for all of her options.
If you do decide to go to college, don't take it slow. Finish your degree in 4 years if at all possible, and start off at a Community College. Jenelle has a scholarship for our local college so that is where she will start if she decides to take the traditional college path. She will have that time to figure out which school she wants to go to next, and to weigh the pros and cons of the costs involved with each college.
When you do enroll in college, make sure you shop around for textbooks! I spent so much money on textbooks that I'll never use again, and even after just a year or two they are too outdated to give to anyone for future college courses, so basically it was a waste. This last semester, I got smart and started renting books on Amazon. It saved me about $500 in one semester alone!
Speaking of Amazon, Make Your Kid a Money Genius (Even if You're Not) is available at Amazon, Barnes & Noble. You can also pre-order this book from BooksAMillion or IndieBound, or find it in most large retailers and local book stores.
Tip from Make Your Kid a Money Genius (Even if You're Not): Even if you don't think you'll qualify for financial aid, fill the forms out! Even if you earn more than $125,000 a year, there's a good chance you're eligible for financial aid.
Future Parenting
If you're a teenager and you're reading this post, you have a long time before you will become a parent (I hope!), but if you plan on having a family one day there are some things to keep in mind. Honestly, even if you don't plan on having a family, sometimes plans change.
As a parent, the sooner you can teach your child about money, the better. Take them into the bank with you, show them how you fill out and sign a check. Even if checks will be almost obsolete before they get old enough to write them, it's still something they should know how to do in case they need to fill out a cashier's check or money order. Teach them how to endorse a check to cash or deposit as well.
It's a personal decision whether you give your child an allowance or not. Every parent is different, and that's okay. Some parents make their children earn an allowance while others freely hand it over. Other parents see their child's allowance as room and board so they have chores to do, without getting paid (ehem… my kids!).
Tip from Make Your Kid a Money Genius (Even if You're Not): Think about tomorrow. Work hard to teach your children – and yourself – impulse control in the checkout line at the grocery store. What are you saving that money for? It wasn't for gum…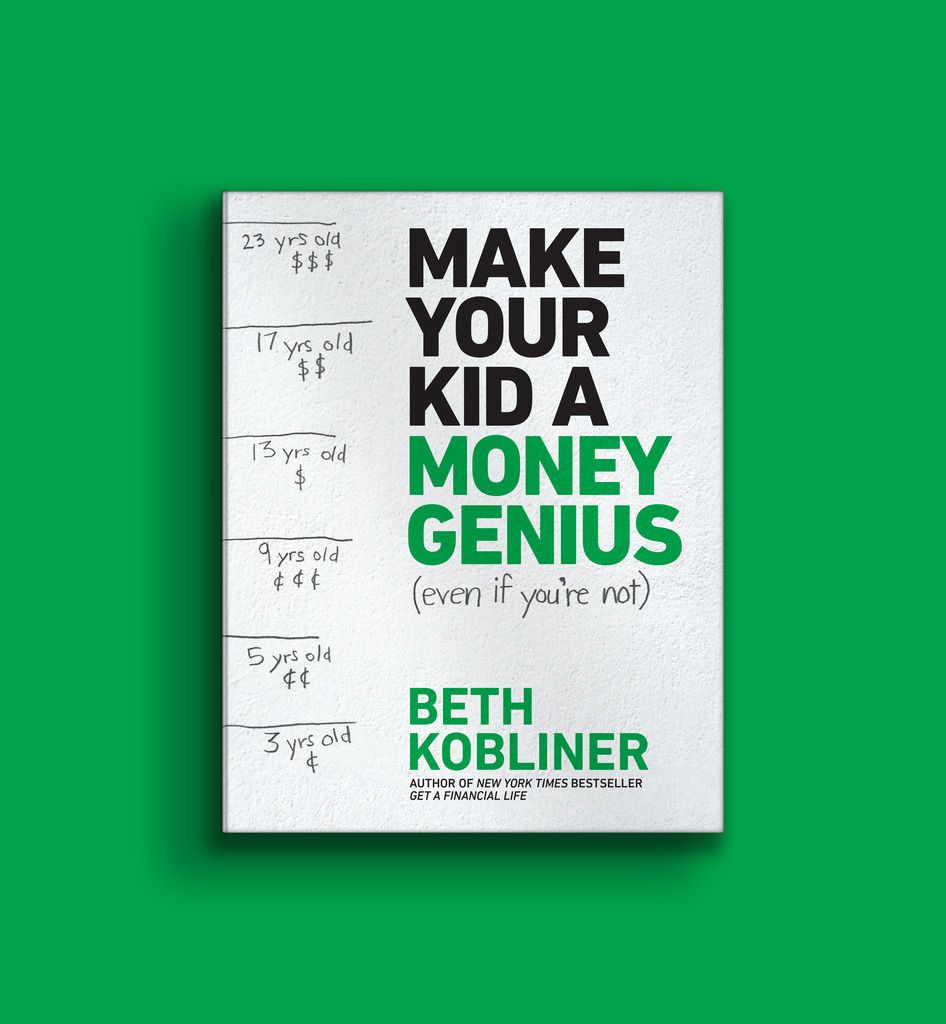 Saving
Saving money is one of the most important things I missed out on when I was a kid. When we bought our house this year, we had some savings but only because we worked really hard to save right before we found a house. Coming up with $10,000 (or more!) for a down payment on a house is not easy. Start saving sooner rather than later, whether it's for a house or for something else.
Setting up savings rules when you're a teen can be difficult if you haven't saved money before now, but it's easier to start now than it would be to start in your 20s or 30s! In our family, saving is just as important as donating is. If you're saving half of your income, the other half will be divided into savings and donations. Most people recommend donating 10% but we try to donate 20% or more if at all possible.
This book is packed with "teachable moments" that allow parents to learn how to teach their kids character traits that are important in all aspects of life. We, as parents, have to teach our kids what's important: a strong work ethic, the ability to exert self-control and to weigh our choices carefully, the perseverance to work toward distant goals, and a giving spirit.
Tip from Make Your Kid a Money Genius (Even if You're Not): Come up with a savings rule that works for you. It might be to save a quarter for every dollar you earn, but keep it simple. Never spend all of your money on a purchase, either. For example if you are saving up for concert tickets, don't stop saving as soon as you hit that $100 amount. Keep saving and then buy the tickets.
The most amazing figure in this book, for Jenelle, was when we were reading about compound interest:
Say you set aside $7.50 a month (essentially a quarter a day) starting at age 10. If you earn an average of 7% per year, by the time you're 65 you'd have $51,800. If you didn't start saving until age 35, you'd have only $8,250.
Read that again if you haven't taken advantage of compound interest yet.
Our minds were blown! Make Your Kid a Money Genius (Even if You're Not) helped us both understand money concepts we've never discussed before.
What about you? Did your parents teach you about money? Are you teaching your kids? Let me know in the comments!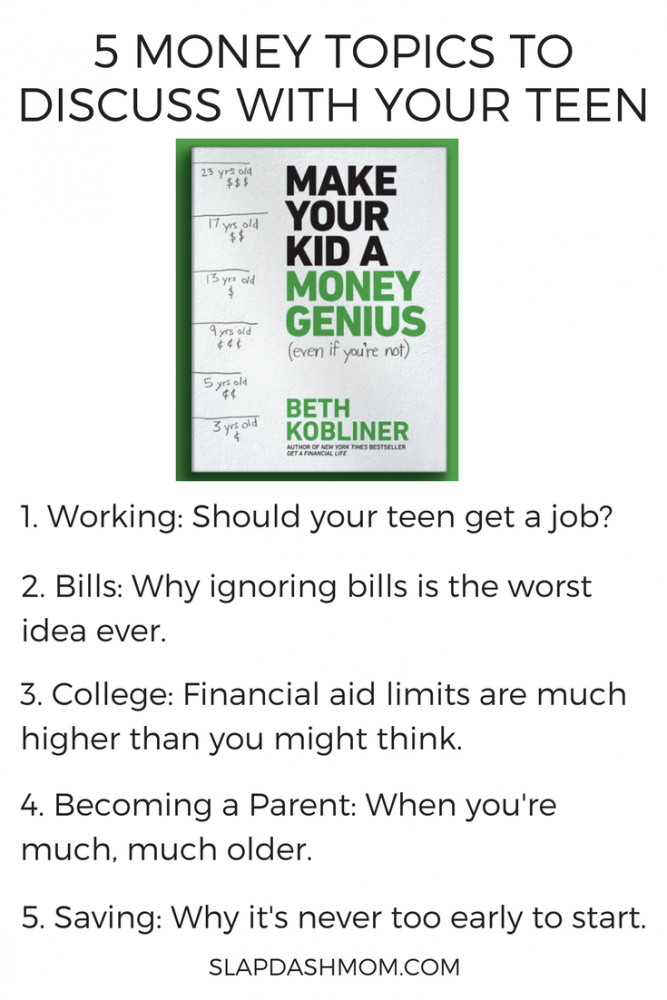 This is a sponsored post written by me on behalf of Make Your Kid a Money Genius (Even If You're Not).