13 Tips to Burn More Calories While Walking
This post may contain affiliate links. Please read my Disclaimer and Privacy policy for more information.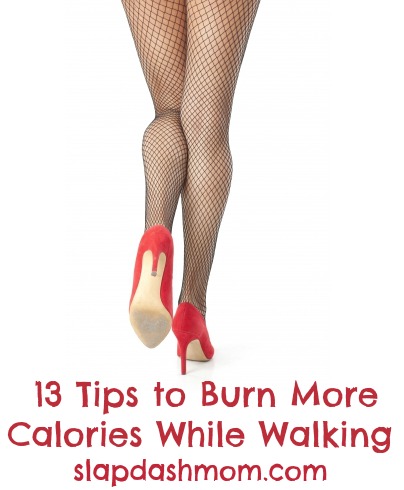 13 Tips to Burn More Calories While Walking
1. Walk Fast! This one is kind of obvious, but the thing is… sometimes when you go on a walk, you might get distracted and not even realize how slowly you're walking. For me, keeping a good pace is easier with fast music, and with a tracker like my Polar Ft4 heart rate monitor. It tells me how high (or low) my heart rate is, so I know if I'm really working as hard as I should be or not. Read this article on how to walk faster, from About.com.
2. Make sure you're wearing good shoes. You don't want an injury to slow you down! Go to a running store to get fitted – a good store will have you walk/run so they can learn more about your stride, how you walk, how you land, etc. When you find out which shoe is right for you, go online and get the same shoe for a cheaper price. Good socks are also really helpful – I recommend Thorlo brand. They're like $15 each pair, but more than worth it.
3. Add strength training. On your days off from walking, do strength training exercises. If you don't have access to a gym, or weights, do bodyweight moves like squats and lunges, and cardio workouts like jumping jacks and jumping rope.
4. Carry extra weight. This is a great idea as long as you don't have joint issues. Adding a weighted vest or backpack to your walks will spike your heart rate – and your calorie burn. This will also help you walk faster when you don't have the extra weight on.
5. Lunges are your friend. So are squats, jumping jacks, and anything else you can think of. Add them to your walk and you could easily double your calorie burn.
6. More weights. Grab some hand weights – start with 2 pounds if you need to, but I recommend trying to start with 5 pound weights. I have worked up to 10 pounds now, and the burn I feel after a 3 mile walk with 10 pound weights is absolutely insane. If you're doing lighter weights, you can also add punches, overhead presses, etc.
7. Use walking poles. I've never personally used walking poles, but I've talked to lots of folks while doing my 5Ks that swore by them!
8. Follow a program. If you don't have a program to follow, you might get bored or off track. Join #SlapDash100 or try this 12 week walking program.
9. Side step. Changing your steps up will help keep your heart rate up. Try a few side steps, jogging steps, lunges, knee-ups, etc.
10. Intervals. These work during regular workouts and during walks! Speed it up, slow it down a bit, then speed it up again.
11. Find some hills to tackle. This one is really great because it will work your legs, abs, and butt! I have a big hill right by my house, and when I walk up it, my heart rate goes up quite a bit.
12. Track your burn. Use the RunKeeper app (or another free app) to help build momentum when you see how fa you've come! Also, try the calorie burn calculator.
13. Stop making excuses. You can't burn more calories if you don't get off your ass and get moving!
What's your best walking tip? Add them to the comments!
Image courtesy of adamr / FreeDigitalPhotos.net