101 Things to Add to Your Bucket List
This post may contain affiliate links. Please read my Disclaimer and Privacy policy for more information.
Creating a bucket list is a good way to hold yourself accountable. Think of it as a productivity tool to keep you on track. Whether you want to see the Eiffel Tower, run a marathon, or just visit another state other than the one you live in, this list of things to add to your bucket list is sure to get your brainstorming process started.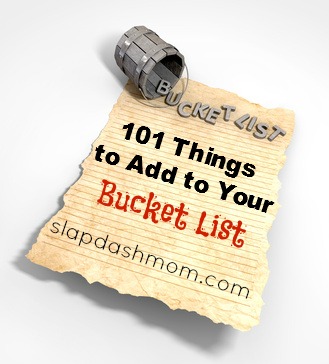 1. Break a Guinness World Record
2. Dance on stage.
3. See the Radio City Christmas Spectacular.
4. Run a 10K.
5. Join the 50 States Marathon Club and run a marathon in all 50 states.
6. Donate money to a group home of mentally challenged adults so that they may go somewhere on vacation they have never been before.
7. Learn to play a sport – basketball, baseball, golf, or football.
8. Attend a Native American Sweat Lodge Ceremony.
9. Ride the 10 largest roller coasters in the world.
10. Write a #1 New York Times' Best Seller.
11. Solve the Rubik's Cube.
12. Play the lottery.
13. Sell a piece of artwork.
14. Learn Sign Language.
15. Create handmade presents for gift-giving.
16. See the Empire State Building.
17. Meet your favorite author.
18. Learn to play chess.
19. Visit all 50 states.
20. Write a song.
21. Go snorkeling.
22. Do something nice for a total stranger.
23. Get a college degree.
24. Ride a mechanical bull.
25. Get pampered at a spa.
26. Start a fundraiser for a cause close to your heart.
27. Watch a rocket launch, live.
28. Go sky diving.
29. Or bungee jumping.
30. Teach a class.
31. Sail on a yacht.
32. Swim with sharks.
33. Try fly fishing.
34. Fly to New York.
35. Visit some place tropical.
36. Adopt an animal from the shelter.
37. Volunteer at an animal shelter.
38. Learn how to bake delicious cupcakes.
39. See the Golden Gate Bridge in San Francisco.
40. Learn how to cook tofu.
41. Take a music appreciation class.
42. Study another religion or philosophy.
43. Go to Universal Studios in Hollywood.
44. Gamble in Vegas.
45. Visit an exotic island.
46. Learn to play an instrument.
47. Race a sports car (on a race track!).
48. Visit the Statue of Liberty.
49. Leave a message in a bottle and bury it with some coins.
50. Go to Sicily and attend the Academy Awards walking the red carpet.
51. Get a tattoo.
52. Achieve your ideal weight.
53. Ride a horse.
54. Start your own blog.
55. Climb a mountain.
56. Throw a surprise party.
57. Fly in a hot air balloon.
58. Watch the sunset with someone you love.
59. See the Northern Lights.
60. Plant a tree.
61. Go on a blind date (if you're single!).
62. Take a road trip across the country!
63. Camp in the rain forest.
64. Read a book that you normally wouldn't read.
65. Volunteer at the hospital.
66. Knit something.
67. Fly a kite.
68. Be a vegetarian for a month. Or a year. Or forever. ;)
69. Tell 5 friends about your bucket list and encourage them to create their own.
70. Go on a helicopter ride.
71. Do karaoke on open-mic night!
72. Dye your hair a crazy color or two.
73. Go on an a safari adventure.
74. Drive the entire California coastline.
75. Visit the Grand Canyon.
76. Bury the hatchet with your past enemies.
77. Fly first class.
78. Visit a castle in England.
79. Learn something new, online.
80. Attend a costume party.
81. Visit a nude beach.
82. Find at least one thing that makes you happy every day for a year, and record them in a journal.
83. Swim under a waterfall.
84. Witness an eclipse.
85. Take boudoir photos.
86. Learn archery.
87. Attend a burlesque show.
88. Go hang gliding.
89. Learn how to garden.
90. Visit another country.
91. Go to the Superbowl.
92. Learn to fly a plane.
93. Coach a kid's basketball team.
94. Go to the Macy's Thanksgiving Day Parade.
95. Meet someone famous.
96. Go to a mystery dinner theater.
97. Visit a comedy club.
98. Go geocaching.
99. Create and bury a time capsule.
100. Be a mentor.
101. Volunteer at a soup kitchen or homeless shelter.
Check out 43 Things, SuperViva, and Barefoot List for more ideas on creating your own bucket list! And, see what other Slap Dash Mom fans have on their bucket lists.
What's on YOUR bucket list?