10 Ways to Get Out of Jury Duty
This post may contain affiliate links. Please read my Disclaimer and Privacy policy for more information.
Oh crap! You were summoned for jury duty?! Whatever you do, don't skip out! You can end up in jail and that won't be much fun. No matter what anyone tells you, refusing to reply to the mail you receive may land you in the slammer. If you're looking for ways to get out of jury duty, look no further!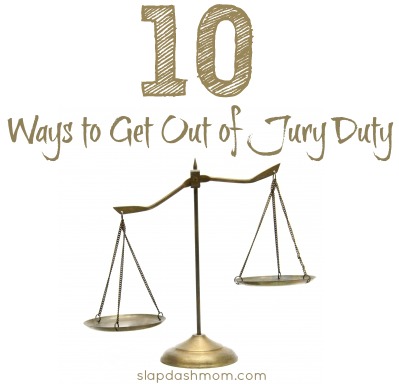 I was called for jury duty this week and I freaked out. I didn't have anyone to watch my kids, but when I called, the court house said that wasn't a valid excuse. I was like OH NOEZ!!! Then, I hit Facebook and asked you guys how to get out of it. Yeah, yeah, it's my civic duty and all that jazz… but I couldn't leave the kids home alone!
10 Ways to Get Out of Jury Duty
Most of the time, if you want to get out of jury duty, you have to play a part. Sometimes you can get out of it simply by being related to law enforcement, but that's not always the case. If you're going to play a part, play it well!
10. The Crackhead: Use a saline nose spray right before you go in to make sure you have the "sniffs". Then sit there the whole time, not discreetly at all, sniffing while obsessively scratching your arms, neck, and hair. Fidget fidget fidget. When it's your turn to talk, act nervous and shifty eyed. No one wants the crack head on their jury.
9. The Pregnant Woman: Obviously this only works if you're a female, but you could walk in acting like you're 9 months pregnant. Okay, so it would only work if you're fat… but it's worth a shot. Moan a bit here and there, arch your back, use the restroom a lot, and chant "hee hee hee hooooo" a few times. When they ask when you're due, say "any minute now".
8. The Opinionated One: Start chatting up everyone you see that enters the jury room. Have an opinion about everything. If someone mentions what they're eating for lunch, you're opinionated about it. Tell them you're a vegan and meat is murder. If they're vegetarians, tell them you love plants too much to eat them.
7. The Silent One: Opposite to the one above, be the silent one. Stare off into space, and when people try to talk to you just act like you've suddenly snapped out of a day dream. If you get to the selection process, take a long time to answer their questions and speak very softly.
6. Hang them all! What's the case about? Theft? Death penalty! Civil case? Death penalty! Jaywalking? Death penalty! On the other hand, you can say you'd never consider the death penalty if it is that serious of a case.
5. The Bum: Wear pajama pants, or something else to make you look like a bum, but don't go too overboard or you may get arrested like this woman did. She left her hair rolled in curlers of different colors, shapes and sizes, slathered on "excessive" makeup and dressed in mismatched shoes with holiday reindeer socks and a T-shirt emblazoned with, "Ask Me About My Best Seller," the affidavit said.
4. Be related: When you find out what the case is about, search your past for ways you could be related to a similar case. If it's a case where a car accident was involved, tell them about a traumatic experience you've had with a car accident in the past.
3. The Investigator: Tell them you watch a lot of CSI, SVU, and NCIS, and you can't WAIT to help them solve a case! Like a real live TV show drama!
2. Liberal/Conservative: If you live in a conservative area, dress like a liberal (try an Equal Rights t-shirt). If you live in a liberal area, dress conservatively. If you live in the Bible Belt like I do, wear a hijab or a pentagram (or a mix of the two!). Wear a political shirt (Ron Paul would be a safe candidate to "support").
#1 way to get out of jury duty
1. Tell the truth! When I arrived, I had to wait about an hour before they were taking any "hardship" case pleas. When they called for hardships, I told them the truth – I have three kids at home and don't have adequate child care during the day for them, so I couldn't possibly serve.
I actually wanted to be a juror, but because of the reason above, I couldn't. I started googling "how to get out of jury duty" and saw some really crazy and funny excuses, but the best ones came from my Minions on Facebook! Thank you for your input and feel free to add hilarious ways to get out of jury duty in the comments. Remember, this post is just for fun. I don't need anyone suing me when they get arrested for doing insane things to get out of jury duty.