Slap Dash 100 May #SlapDash100
This post may contain affiliate links. Please read my Disclaimer and Privacy policy for more information.
Last Updated on
Scroll to the bottom for the giveaway!
Are you ready for a challenge? You keep saying "tomorrow"… "Monday"… "when I have more energy". Well, guess what? That time is NOW! Did you know that walking can actually give you more energy? And who couldn't use a little pep in their step?! So, I need you to join me in this 100 Miles in May Challenge. Why? Because I can't do it alone!!
TWEET TO ME — let me know how you're doing! Use hashtag #SlapDash100 to connect with other 100Milers!!
INSTAGRAM IT — post your awesome photos! Hashtag #SlapDash100
FACEBOOK ME — brag all about it! Make your 100 Miles posts PUBLIC and tag them #SlapDash100 so I can see them!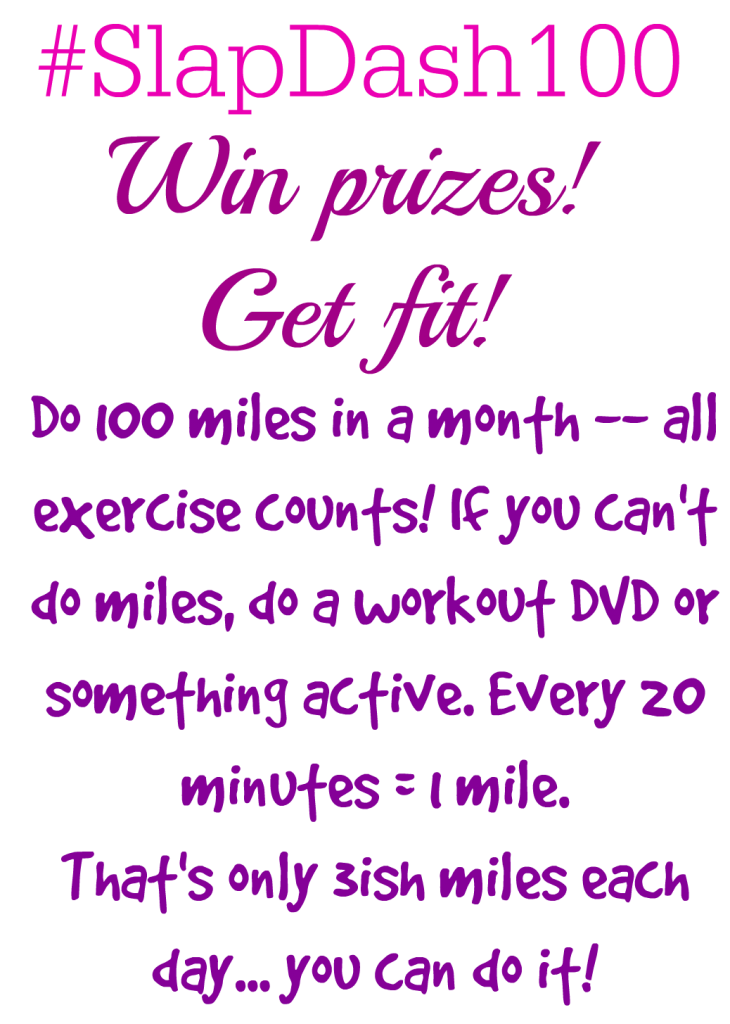 What's the Challenge?
The challenge is simple! Complete 100 miles in May. That's a little over 3 miles each day. The goal is to push yourself. If 100 miles will be too easy, do 125.. do 150.. but you will complete the challenge as long as you log 100. You CAN do 100. I have faith in you.
Amazing Sponsors
Please visit these pages! I cannot afford the prizes without them. ;)
Ramblings of Mama on Facebook
Michelle Bowman on Twitter
You Brew My Tea on Pinterest
You Brew My Tea on Facebook
How Can I Complete My Miles?
You can complete your 100 miles in many ways! Walk, jog, run, crawl, swim, bike, skip, hop… you name it, you can do it. If you don't have a pedometer, you can get one from Walmart for $5. If you don't have $5 to get the pedometer, drive your car a mile up the road. You now have your mile marker. Drive it another mile. That's your two mile marker. If you walk there AND back, that's 4 miles.
Think you can't do it? Send me a message! I will walk "with" you.. just let me know when and I will lace up my shoes. We might not be in the same city (or even the same state), but I will encourage you every step of the way. If you DO happen to live in San Tan Valley, Arizona, hit me up! We will walk together!
What's Up for Grabs?
Everyone that completes and logs their 100 miles will be entered to win a Polar FT4 Heart Rate Monitor Watch with Strap! This watch has helped me every step of the way on my fitness journey.
AND… two iBitz trackers from Best Buy! One person will win the Polar, one will win the iBitz trackers.
If you already have a heart rate monitor, you can give it as a gift to a friend (I can ship directly to them), or you can choose another prize from BestBuy.com with a similar value. Item MUST be fitness related!
FAQ
How do I actually enter? – Rafflecopter will be live by 5/5/14. The only required entry will be to agree that you've completed your 100 miles. Extra entries will be given for liking the sponsors pages, tweeting, etc. You are allowed to enter the giveaway BEFORE completing your 100 miles, to keep it simple – but be honest!! Don't enter unless you're going to finish the 100 miles!
What do you mean by "log" my miles? – You keep track of how many miles you complete. I trust you. At the end of each week, you can comment on this post! I'm keeping it simple. You can do more by tweeting, FBing, and instagramming with the hashtag #SlapDash100 but it's not required.
Does the elliptical/treadmill/insert other equipment here count? – Yes, it all counts. If it doesn't tell you how many miles you're doing, though, you'll count every 20 minutes as one mile. This includes exercise classes.
How do I track my miles? – Use a notebook, use an app, use whatever you need to to keep track. You can use a pedometer, a Fit Bit, a gym machine read out, or something like mapmyrun.com. A fellow Minion even made a free printable log that you can use!
What if I join late? – You're welcome to join at any time, but you are only eligible to win if you complete 100 miles.
ANY OTHER QUESTIONS? LEAVE THEM IN THE COMMENTS!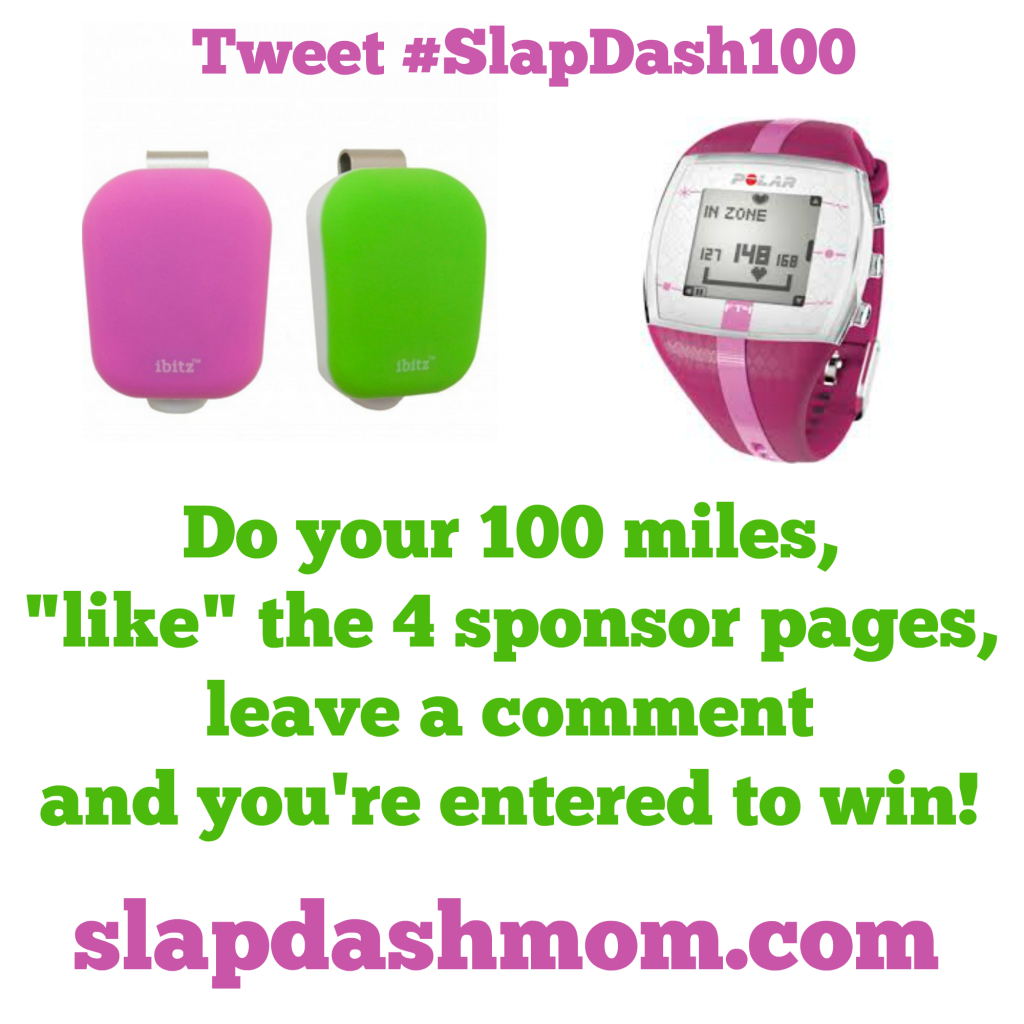 Like THESE PAGES, then leave a comment letting me know how your 100 miles went (how'd you do it? how many miles did you do? will you join next month?) and you'll automatically be entered to win the prize! This giveaway is open world wide and closes JUNE 7 2014 at midnight
Ramblings of Mama on Facebook
Michelle Bowman on Twitter
You Brew My Tea on Pinterest
You Brew My Tea on Facebook