Freestyle Weight Watchers Friendly Meal Plan for a Week
This post may contain affiliate links. Please read my Disclaimer and Privacy policy for more information.
I'm trying to get in the habit of meal planning with Weight Watchers so I'm hoping if you are doing the same, this Freestyle Weight Watchers Meal Plan will help you! Scroll down to print the whole meal plan. You can also create a Pinterest board for meal plan ideas and put your own Weight Watchers meal plan together using your favorite recipes. Bookmark the recipes, pin them, and then print out the ones you want to use.
Freestyle Weight Watchers Meal Plan for a Week
Looking for new ideas for Weight Watchers meals? Me, too! I'm working on new recipes all the time so feel free to comment or email me so I know what you want to see next.
Weight Watchers Breakfasts
Day 1: Quiche – 1FSP
Day 2: Muffin Tin Eggs – 0FSP
Day 3: Apple Cinnamon Oatmeal – 4FSP
Day 4: Omelet – 2FSP
Day 5: Pancakes – 0FSP
Day 6: Breakfast Casserole – 1FSP
Day 7: Pop Tarts – 3FSP
Weight Watchers Lunches
Day 1: Pot Pie Casserole – 6FSP
Day 2: Tater Tot Casserole -10FSP
Day 3: Tomato Tofu Bisque – 5FSP
Day 4: Tomato Chicken Pasta – 9FSP
Day 5: Turkey Chili – 0FSP
Day 6: Waldorf Salad – 5FSP
Day 7: Tuna Cakes – 1FSP
Weight Watchers Dinners
Day 1: Salmon and Spinach – 0FSP
Day 2: Mini Stuffed Peppers – 5FSP
Day 3: Chicken Skillet – 0FSP
Day 4: Mushroom Burgers – 3FSP
Day 5: Mac and Cheese – 3FSP
Day 6: Air Fryer Empanadas – 3FSP
Day 7: Easy Veggie Burgers – 3FSP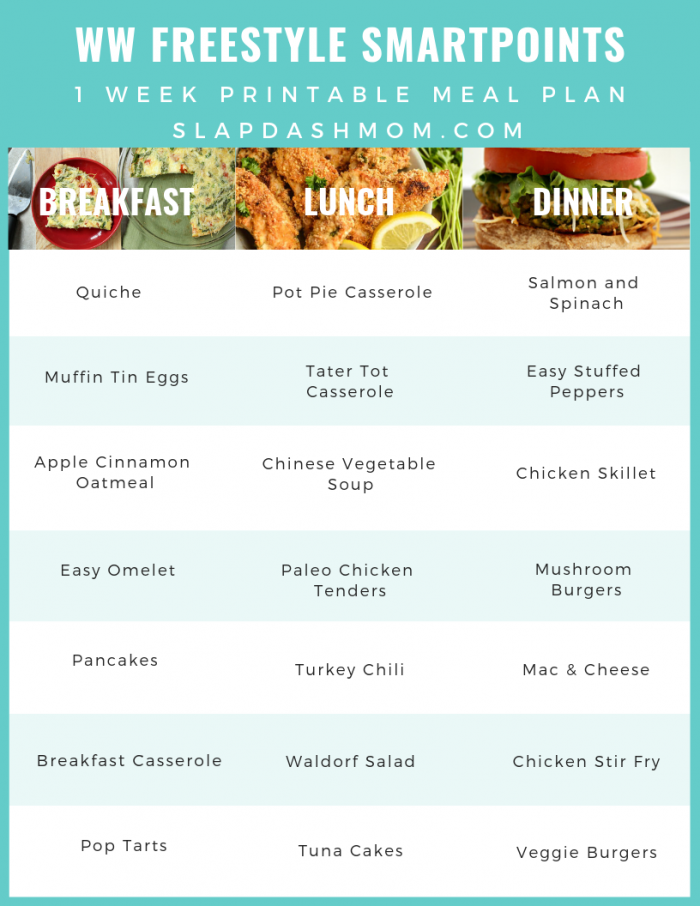 Tips for Sticking to Weight Watchers: 
It can be hard for anyone to stick with a new way of eating. The reason I love Weight Watchers so much is that there is truly nothing off limits! You can have anything you want, you just have to account for it in your daily or weekly points. Since there are tons of zero point foods on this plan, you can easily mix and match foods to fit your personality and cravings.
Come find me and JOIN my Weight Watchers Air Fryer & Instant Pot Facebook Recipe Group. We all know how hard it is to do it alone. We are a community of people who post recipes, share tips and ideas and inspire one another every day! We can't wait to meet you!!
Check the bottom of this page to Download my FREE WW Cookbook & Tips Guide. You will LOVE it!!
This is my ZERO Point food list. Book mark the page and refer back often. Loading your fridge and pantry with these ZERO point foods is tip #1 for weight loss success.
Meal plans help me stay on track. Here are some of my favorites!
Instant Pot Printable Meal Plan
Freestyle One Week Meal Plan
Free Printable Meal Plan
You simply MUST try my ZERO points Cheesecake Recipe
Have you made up a batch of my 2 Ingredients Dough  yet?  It's AMAZING stuff!! Use it to make low point bread bowls, pretzels, bread sticks, bagels, pizza crust, cinnamon rolls & more. Check out the Recipe Guide & Individual Recipes below:
To entice you, watch this Video for the 2 Ingredients Bagel Recipe – you will LOVE it – total YUM!!
2 Ingredient Dough Recipes
Ultimate 2 Ingredient Dough Guide
2 Ingredient Dough Pizza
2 Ingredient Dough Pot Pie
2 Ingredient Dough Pop Tarts
2 Ingredient Dough Cinnamon Rolls
2 Ingredient Dough Bread Bowls
2 Ingredient Dough Empanadas
Make sure you check out and grab our printable shopping lists below to make it easy when you are in store to grab the best WW FreeStyle friendly foods and snacks!
Weight Watchers Walmart Shopping List
Weight Watchers Target Shopping List
Weight Watchers Aldi Shopping List
Weight Watchers Trader Joe's Shopping List
Ever panic and wonder what to eat at your favorite restaurants? Well, I do too! That's why I created and LOVE my restaurant guides. Check them out here and be sure to email me and let me know any others you'd like to see:
Chipotle Weight Watchers
Olive Garden Weight Watchers
Red Robin Weight Watchers
Taco Bell Weight Watchers
P.F. Chang's
Texas Roadhouse