First Time Getting Eyelash Extensions (AZ Lash Lady Review)
This post may contain affiliate links. Please read my Disclaimer and Privacy policy for more information.
Last Updated on
Natalie (aka the AZ Lash Lady) and I teamed up for this review! Natalie is a Licensed Esthetician and Lash Artist specializing in volume lashes. She has more than 3 years of lash experience, and has placed in International lash art competitions. Knowing all of this, plus knowing Natalie from a photography class we took together, I had no doubt that she was the perfect person to help me navigate my first eyelash extension experience.
I was nervous about eyelash extensions because I don't always wear makeup, and I didn't want my eyelashes to look too over the top. I want to be able to walk out of the house without having to put on a full face of makeup sometimes (okay most of the time LOL), so lashes are the first step I'm taking to feel more confident in my appearance without makeup.
Located in Historic Downtown Chandler, AZ Lash Lady was easy to find (and is across from a dessert shop!). Once inside, I filled out a consent form and answered a few questions about the adhesives used in the process to make sure I had no allergies. Then, Natalie took a photo of my face. She used the picture to measure my face and some other fancy stuff I'm going to have her explain in a future post. Because one of my eyes sits a little lower than the other, she decided to use different lashes for each eye to make them look more symmetrical. I was a tad bit confused by this at first, but when I saw the finished result I knew she was right, whatever she did!
Natalie also measured the length and diameter of my natural lash. She can add up to 2-3mm in length and up to the same thickness of your natural lash, but not more than that. So your look will depend on how full you want your lashes, as well as the state of your natural lashes.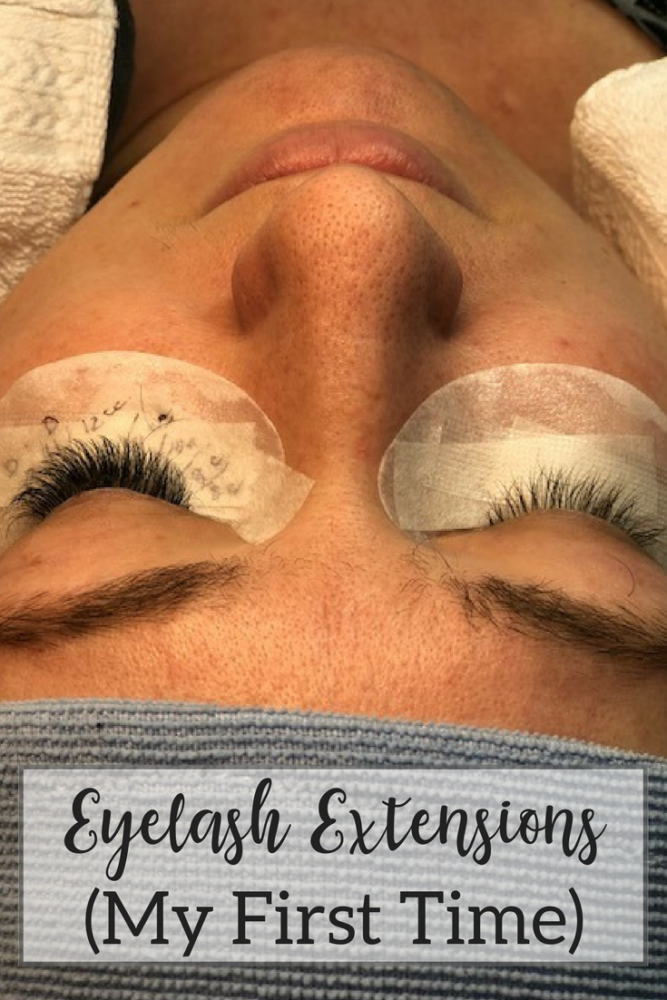 First Time Getting Eyelash Extensions: The Process
After filling out the consent form and getting my photo taken, I hopped up on the bed and got comfortable. Well, as comfortable as you can get when your brain is SCREAMING because you're afraid of having to lay still for 3 hours.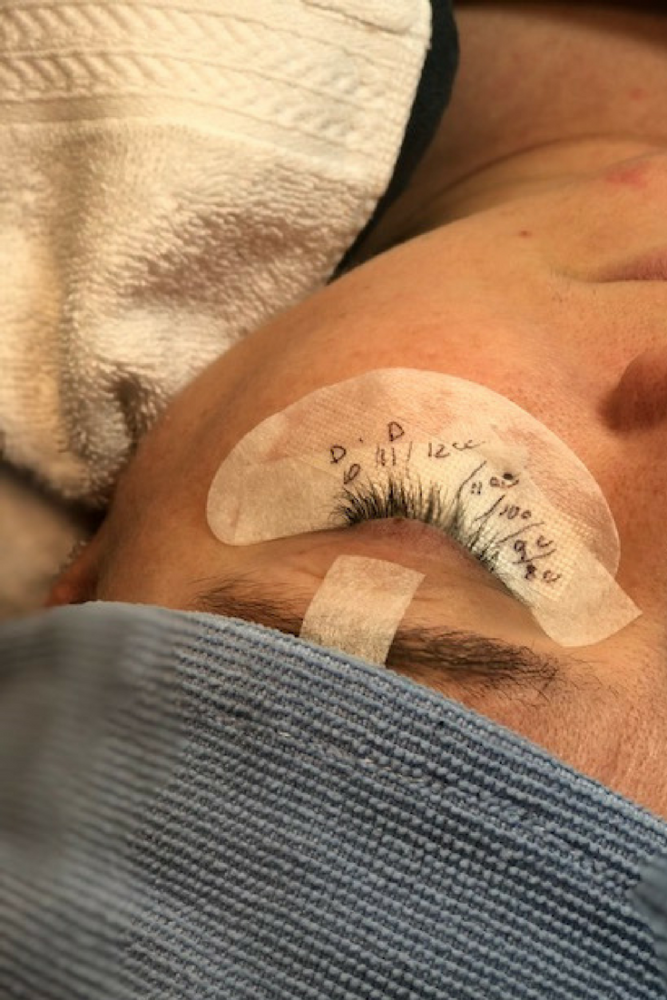 After I got comfy, Natalie put some cold pads under my eyes that felt AMAZING. Then, she used some light adhesive tape to tape my bottom lashes down so they didn't get in the way while she was putting my top lashes on.
It was tough to keep my eyes closed because I wanted to watch everything she was doing! But after a few minutes, I was relaxed – almost relaxed enough to fall asleep, actually. There was some soft spa music playing in the background, and other than that… silence.
Oh, another thing, you can't talk while you're getting your lashes done! That was TOUGH because I hadn't seen Natalie in over a year and we really wanted to catch up. If you can, the best thing to do is sleep. The time will go by much faster, and your eyeballs will stay still. ;)
Even though Natalie was using slightly different lashes on each of my eyes, the process of application was just about the same. My right eye seemed to go by faster. I got up and walked around to stretch after she finished the first set of lashes. My stomach was growling (very loudly!) even though I wasn't hungry, and my feet kept cramping up. I'm telling you, staying still was a chore LOL.
After the lashes were applied, we took some more photos and I was on my way!
Eyelash Extensions Before and After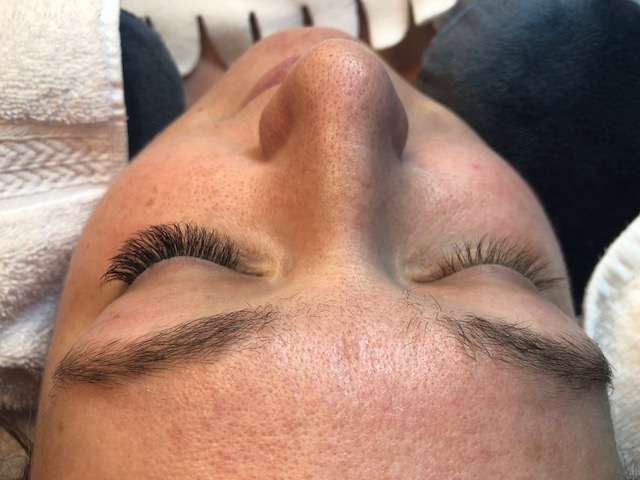 I didn't use any filters or editing on the photos, so you can see a true before and after with my volume set of eyelash extensions. You can see my eyes side by side, the left one complete with the right one natural. It is a HUGE difference!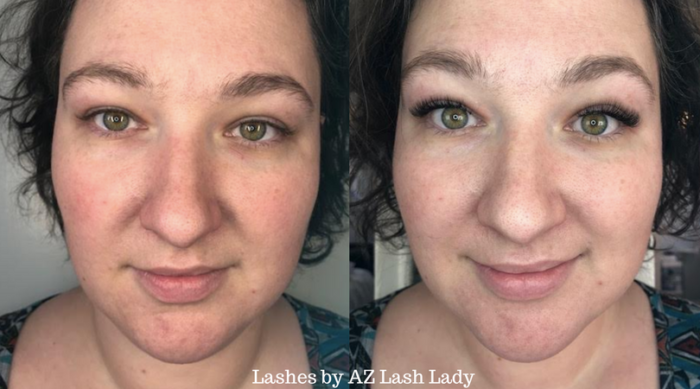 I love that they look natural and not too over the top, but are dark and full enough that I don't have to wear mascara. PERFECT.
Cost of Eyelash Extensions
The first question I asked when I started looking into extensions for my eyelashes was, "How much is it going to cost me?". It was important that I knew what I was getting into ahead of time. I didn't want to fall in love with my new eyelashes and not be able to afford the upkeep!
A classic full set is $105, while a Hybrid full set is $145. A full set of volume lashes is $215. My look is a Hybrid set. She did quite a few volume lashes but used single/classic lashes as well. Fills run anywhere from $69 to $175, depending on which set you have and how long it takes.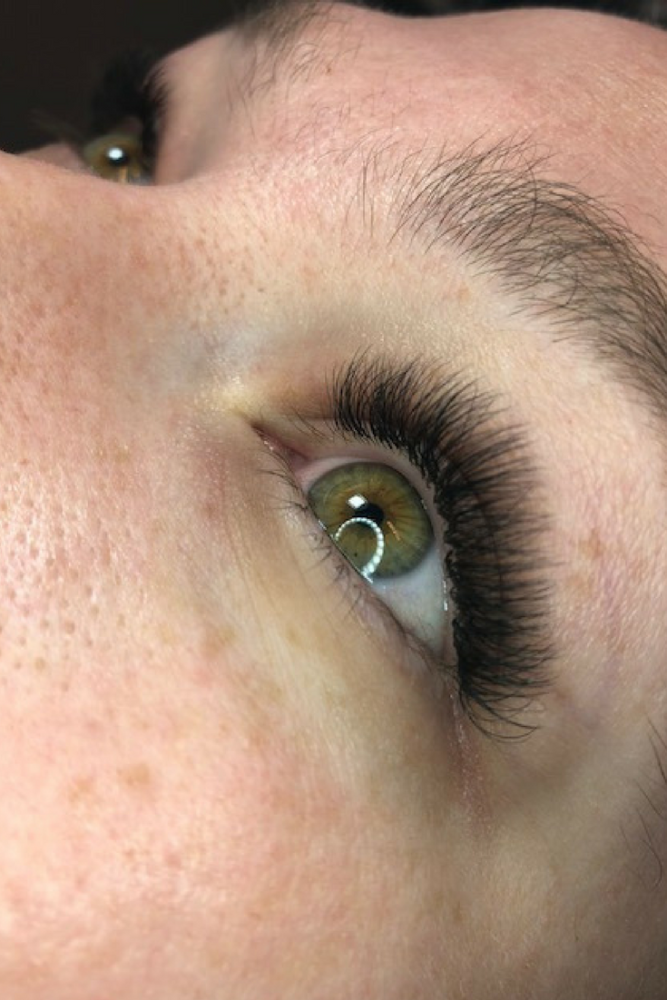 How long do Eyelash Extensions last?
Eyelash extensions last up to a month without needing to be filled. This is based on a few factors, and Natalie said some of her clients get fills twice a month, but I think I'll be happy with a fill once a month. If I change my mind, I will update this post for you guys. :)
How long does the application take?
It can take a few hours to get a full volume set, less for a classic set. I mentally prepared myself for sitting still for a while before I headed to my appointment. That's what I was most worried about, to be honest. Laying down, eyes closed, completely still. My brain goes a million miles a minute so I just knew my eyes would be fluttering – but they didn't! I did a pretty good job of keeping my eyes still.
Anything else I should know?
Before you attend your appointment to get eyelash extensions, make sure you read up on the procedures and what you should do before your appointment. I read that I shouldn't use a certain type of mascara up to 3 days before my appointment, so I didn't wear any at all.
Staying still isn't as scary as it sounds. It's natural to be nervous at first but after just a few minutes, your lash artist should have you relaxed enough to where you completely forget about your eyes moving. Like I said, I almost fell asleep a few times. I think it'd be easy for most people to fall asleep for the majority of the visit.
I'll be updating this post in about a month with pictures of how the lashes look at that time, and when I get a fill. Be sure to sign up for my emails if you want to be notified first!
Stalk AZ Lash Lady