Air Fryer Cook Time Cheat Sheet
This post may contain affiliate links. Please read my Disclaimer and Privacy policy for more information.
I get asked so often, "how long do things get cooked in the air fryer, I thought it best to make a nice cheat sheet for everyone. Please keep in mind this is just a guide, and your air fryer may cook a little differently than mine, but it should key you in to where you should be to try things out and have a lot of fun with your own air fryer.
Be sure you also check out My Most Popular Weight Watchers Friendly Recipes HERE
Please BOOKMARK the page and come back often!!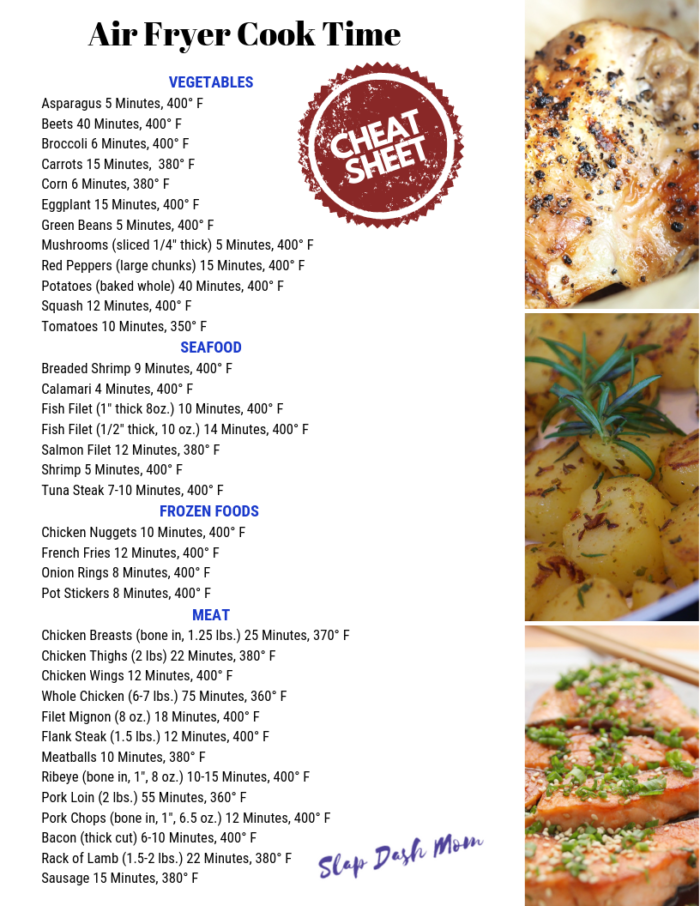 Lose Weight With Your Instant Pot!
I was super intimidated by my Instant Pot at first but honestly the Instant Pot makes life SO easy! I took Instant Pot for Weight Loss and now I use my Instant Pot almost daily! Have you used your Instant Pot yet? These low point recipes help me stay on track with my Weight Watchers journey.
Broccoli Cheddar Soup – my favorite!!
Instant Pot Beef Stew
Instant Pot Chicken Taco Soup 
Two Ingredient Bread Bowl Recipe (I love to have my soup in a bread bowl)!
Meal plans help me stay on track. Here are some of my favorites!
Instant Pot Printable Meal Plan
Freestyle One Week Meal Plan
Free Printable Meal Plan
All of these great recipes make it easier than ever for you to stick to this healthy lifestyle! Make sure to join all of our support groups on Facebook to really make the most of your time using WW to get healthier. Not only will you find even more healthy recipes, but a unique support team of people who are following the same diet program as you. This results in a way to get the support you need to stick to the program.
2 Ingredient Dough Recipes
Ultimate 2 Ingredient Dough Guide
2 Ingredient Dough Pizza
2 Ingredient Dough Pot Pie
2 Ingredient Dough Pop Tarts
2 Ingredient Dough Cinnamon Rolls
2 Ingredient Dough Bread Bowls
2 Ingredient Dough Empanadas
Make sure you check out and grab our printable shopping lists below to make it easy when you are in store to grab the best WW FreeStyle friendly foods and snacks!
Weight Watchers Walmart Shopping List
Weight Watchers Target Shopping List
Weight Watchers Aldi Shopping List
Weight Watchers Trader Joe's Shopping List
Restaurant Guides
Chipotle Weight Watchers
Olive Garden Weight Watchers
Red Robin Weight Watchers
Taco Bell Weight Watchers
P.F. Chang's
Texas Roadhouse
Download my Cookbook!
Love low point recipes? Grab my free cookbook!